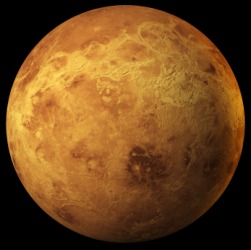 The planet Venus.
noun
Venus is defined as the Roman goddess of beauty and love, or the second planet from the sun.

Facts About the Planet Venus

Venus was named after the Roman goddess of love and beauty.
It is visible a few hours before sunrise and a few hours after sunset and cannot be seen in the middle of the night.
Its orbit around the Sun takes about 225 days.
The planet rotates from east to west, which is the opposite way of most planets. Therefore, the sun rises in the west and sets in the east.
Its rotation is slow compared to other planets, with a day lasting the equivalent of 243 Earth days.
Venus has no moons.
Venus is made mostly of silicate rock.
With a surface pressure ninety times higher than Earth's, life could not survive there.
Venus has a thick atmosphere mostly of carbon dioxide.
It is covered by clouds of sulfuric acid which move around the planet quickly because of strong winds in the upper atmosphere. The clouds block light and create a greenhouse effect, so Venus's temperature can reach 900 degrees Fahrenheit.
There is and has been volcanic activity. There are high mountains, most likely caused by this volcanic activity, and extremely large rift valleys.
Venus has no moons and no one really knows why.
Venus has been explored with a fly-by of Mariner 2 in 1962, two Soviet probes and a landing in 1970, photographs by Mariner 10 and t0 spacecrafts from 1975; through 1984, and the U.S. space probe mapping the surface using radar in 1990.
Today the details of objects as small as 330 feet across can now been seen on Venus from the images sent back to Earth.

An example of Venus is the mother of Aeneas.
An example of Venus is the sixth largest planet in the solar system.
---
Venus
noun
pl.
Rom. Myth.

the goddess of love and beauty: identified with the Greek Aphrodite
a statue or image of Venus
a very beautiful woman
the brightest, sixth-largest planet in the solar system and the second in distance from the sun, with a dense atmosphere of carbon dioxide and a very high surface temperature: diameter, c. 12,100 km (c. 7,520 mi); period of revolution, c. 224.7 earth days; period of rotation (retrograde), 243.01 earth days; symbol, ?
Origin of Venus
Middle English from L, literally , love from Indo-European an unverified form
wenos,
desire from base an unverified form
wen-,
to strive for, attain from source Old English
wine,
friend,
winnan,
to win
---
Venus
noun
Roman Mythology The goddess of love and beauty.
The second planet from the sun, having an average radius of 6,052 kilometers (3,761 miles), a mass 0.82 times that of Earth, and a sidereal period of revolution about the sun of 224.7 days at a mean distance of approximately 108.2 million kilometers (67.2 million miles).
Origin of Venus
Middle English
from
Old English
from
Latin
love, Venus
; see
wen-
1
in Indo-European roots.
Venus
false-color image produced from radar images taken by the Magellan probe
---
venus

---