vendor
[ven′dər, ven dôr′]
noun
The definition of a vendor is a person selling something.

An example of a vendor is a man with a stall at a farmer's market who is selling tomatoes.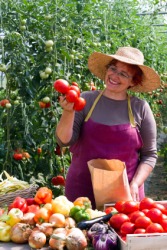 A vendor sells tomatoes at a farmer's market.
---
vendor
noun
one who vends, or sells; seller
vending machine
Origin of vendor
Anglo-French ; from French
vendre
---
vendor
also vend·er
noun
One that sells or vends something: a street vendor; a vendor of software products on the Web.
One that provides products or services to a business for a fee.
A vending machine.
---
vendor
---
vendor - Computer Definition
An organization that sells something. In this publication, vendor refers to both manufacturers and distributors as long as they sell products to the general public.
---
vendor - Investment & Finance Definition
---
vendor - Legal Definition
n
The person selling, especially in the case of real property. The term seller is more frequently used when referring to transactions involving personal property.
vendor's lien
A lien on real property held by the seller until the purchaer has made full payment. 
---