vendor
[ven′dər, ven dôr′]
noun
The definition of a vendor is a person selling something.

An example of a vendor is a man with a stall at a farmer's market who is selling tomatoes.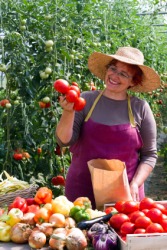 A vendor sells tomatoes at a farmer's market.
---
vendor
noun
one who vends, or sells; seller
vending machine
Origin of vendor
Anglo-French ; from French
vendre
---
vendor
also vend·er
noun
One that sells or vends something: a street vendor; a vendor of software products on the Web.
One that provides products or services to a business for a fee.
A vending machine.
---
vendor
Noun
(plural vendors, feminine vendress)
A person or a company that vends or sells.
Origin
From Old French vendeor, from Latin venditor ("seller"), from vendere ("to sell, cry up for sale, praise"), contraction of venundare, venumdare, also, as originally, two words venum dare ("to sell"), from venum ("sale, price") + dare ("to give").
---
vendor - Computer Definition
An organization that sells something. In this publication, vendor refers to both manufacturers and distributors as long as they sell products to the general public.
---
vendor - Investment & Finance Definition
---
vendor - Legal Definition
n
The person selling, especially in the case of real property. The term seller is more frequently used when referring to transactions involving personal property.
vendor's lien
A lien on real property held by the seller until the purchaer has made full payment. 
---