noun
The definition of a television is an electronic device used to receive sound and images which create television programs that people watch.

A device in your house on which you watch sitcoms, movies or the news is an example of a television.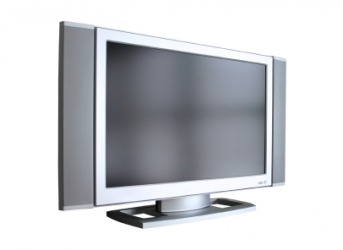 A flat panel television.
---
television definition by Webster's New World
noun
the practice or science of transmitting scenes or views by radio or, sometimes, by wire: the television transmitter, by means of a camera tube, such as an image orthicon or vidicon, converts light rays into electric signals for modulation upon a radio carrier wave or for transmission over wires; the television receiver reconverts the signals into electron beams that are projected against the fluorescent screen of the kinescope, or picture tube, reproducing the original image

broadcasting by television as an industry, entertainment, art, etc.
all the facilities and related activities of such broadcasting

a television receiving set
a television program or programs: they watched television last night
Origin: tele- plush vision
adjective
of, using, used in, or sent by television
Webster's New World College Dictionary Copyright © 2010 by Wiley Publishing, Inc., Cleveland, Ohio. Used by arrangement with John Wiley & Sons, Inc.
---
television definition by American Heritage Dictionary
noun
a. The transmission of dynamic or sometimes static images, generally with accompanying sound, via electric or electromagnetic signals.

b. An electronic apparatus that receives such signals, reproducing the images on a screen, and typically reproducing accompanying sound signals on speakers.

c. The visual and audio content of such signals.

The industry of producing and broadcasting television programs.
Origin: French télévision : télé-, far (from Greek tēle-, tele-) + vision, vision; see vision.
The American Heritage® Dictionary of the English Language, 4th edition Copyright © 2010 by Houghton Mifflin Harcourt Publishing Company. Published by Houghton Mifflin Harcourt Publishing Company. All rights reserved.
---
television - Computer Definition