television

tel·e·vi·sion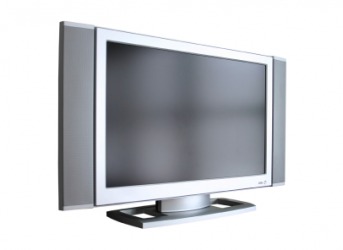 A flat panel television.
noun
The definition of a television is an electronic device used to receive sound and images which create television programs that people watch.

A device in your house on which you watch sitcoms, movies or the news is an example of a television.
---
television
the practice, science, or medium of transmitting moving images by radio waves, cable wires, or satellite to receivers consisting of a display monitor, tuner, and electronic circuitry: images may be produced by means of a camera tube, such as an image orthicon or vidicon, or a CCD device that converts light rays into electrical signals that are sent to a receiver for reproduction of the image, as by reconverting the signals into electron beams that are projected against the fluorescent screen of the kinescope, or picture tube, or by the use of LCD or plasma, flat-panel displays

broadcasting by television as an industry, entertainment, art, etc.
all the facilities and related activities of such broadcasting

a television receiver
a television program or programs: they watched television last night
Origin of television
tele- + vision
of, using, used in, or sent by television
---
television
noun
a. An electronic broadcast system in which special providers transmit a continuous program of video content to the public or subscribers by way of antenna, cable, or satellite dish, often on multiple channels: a new sitcom on television.

b. Video content, especially short programs, created for or distributed through such a system: stayed home and watched television.

c. An electronic device for viewing television programs and movies, consisting of a display screen and speakers: sat too close to the television.

The industry of producing and broadcasting television programs: made her fortune in television.
Origin of television
French
télévision
télé-
far
(
from
Greek
tēle-
tele-
)
vision
vision
; see
vision
.
---
television

Noun
(countable and uncountable, plural televisions)
(uncountable) An electronic communication medium that allows the transmission of real-time visual images, and often sound.

It's a good thing that television doesn't transmit smell.

(countable) A device for receiving television signals and displaying them in visual form.

I have an old television in the study.

(uncountable) Collectively, the programs broadcast via the medium of television.

fifty-seven channels and nothing on television
Verb
(third-person singular simple present televisions, present participle televisioning, simple past and past participle televisioned)
(neologism, informal) To watch television.
---
television - Computer Definition

---
---