snout

snout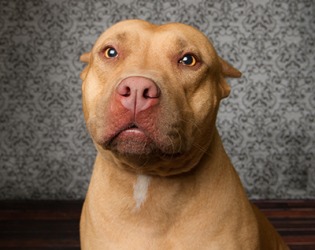 The snout of a red nose pitbull terrier is a pinkish color.
noun
The definition of a snout is a projecting nose, or is the nose of an animal that sticks out.

A dog's nose and muzzle is an example of a snout.
---
snout
the projecting nose and jaws, or muzzle, of an animal
an anterior prolongation of the head resembling this, as in a weevil

a projecting part

Informal

a large nose
Origin of snout
Middle English
snoute
, probably from Middle Dutch
snute
, akin to German
schnauze
from Indo-European base an unverified form
sn?-
, an unverified form
sneu-
, to drip fluid, wetness from source Classical Latin
natare
, to swim,
nutrire
, to nurse
---
snout
noun
a. The projecting nose, jaws, or anterior facial part of an animal's head.

b. A similar prolongation of the anterior portion of the head in certain insects, such as weevils; a rostrum.

c. A spout or nozzle shaped like such a projection.

Slang The human nose.
Origin of snout
Middle English
probably of Old English origin
---
snout

Verb
(third-person singular simple present snouts, present participle snouting, simple past and past participle snouted)
To furnish with a nozzle or point.
Origin
Of Germanic origin; probably from Middle Low German or Middle Dutch snute. Compare Dutch snuit, German Schnauze.
---