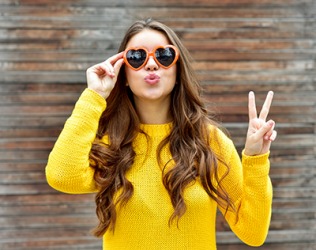 Alyssa gets plenty of attention when she wears her snazzy sunglasses.
adjective
The definition of snazzy is slang to describe something that is fashionable and showy.

An example of something snazzy is a new sequined bag.
---
snazzy
adjective
-·zier

,

-·zi·est
Slang
stylishly or showily attractive; flashy
Origin of snazzy
from uncertain or unknown; perhaps sn(appy) + (j)azzy
---
snazzy
adjective
snaz·zi·er, snaz·zi·est
Slang
Fashionable or flashy.
Origin of snazzy
Origin unknown
Related Forms:
---
snazzy

---