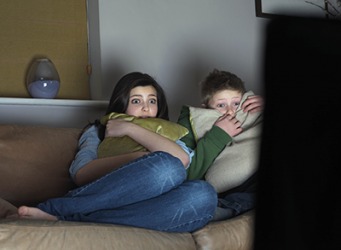 Cassie and her brother shudder in fear as they watch the horror movie on TV.
noun
Shudder is the act of shaking or trembling, especially because of fear.

The act of shaking out of fear is an example of shudder.
verb
To shudder is to shake or tremble, often because of fear.

When you begin to shake because you are afraid, this is an example of a situation where you shudder.
---
shudder
to shake or tremble suddenly and violently, as in horror or extreme disgust
Origin of shudder
Middle English
schoderen
, akin to German
schaudern
, to feel dread, Old Frisian
skedda
, to shake from Indo-European base an unverified form
(s)kut-
, to shake from source Lithuanian
kutù
, to shake up
the act of shuddering; a convulsive tremor of the body
the shudders
a feeling of horror, repugnance, etc.
---
shudder
intransitive verb
shud·dered, shud·der·ing, shud·ders
To shiver convulsively, as from fear or revulsion. See Synonyms at shake.
To vibrate; quiver: The airplane shuddered in the turbulence.
noun
A convulsive shiver, as from fear or revulsion.
A vibration or trembling motion.
Origin of shudder
Middle English
shodderen
perhaps of Middle Dutch or Middle Low German origin
Related Forms:
---
shudder

Verb
(third-person singular simple present shudders, present participle shuddering, simple past and past participle shuddered)
Origin
Either from Middle Dutch schudderen or from Middle Low German schoderen (whence also Danish skudre). Cognate with Low German schüdden, Dutch schudden and German schaudern.
---