noun
Science fiction is storytelling with a focus on characters dealing with advances in technology, science, the future, and space.

Essential Elements of Science Fiction

Setting - The book or movie may be set in the future, occur during alternative timelines, or occur at some point in history that contradicts the knowledge of history that we know today. The setting may also be in outer space, on other planets, or a story that involves a race from another world.
Advanced Technology - The story generally also has to have some sort of unique, odd or advanced technology (like technology that could exist in the future) and/or the people involved have to have special and unique powers or be out-of-the-ordinary (like aliens).
Character and Plot - There must be a hero, a villain, a problem and a resolution.
Theme - Science must be related to the story.

An example of science fiction is War of the Worlds by H.G. Wells.
Examples of science fiction movies are: The Day the Earth Stood Still (1951), When Worlds Collide (1951), War of the Worlds (1953), Deep Impact (1998), Armageddon (1998), The Day After Tomorrow (2004)
Examples of science fiction books are: Dune by Frank Herbert, Fahrenheit 451 by Ray Bradbury, Starship Troopers by Robert A. Heinlein, The Time Machine by H.G. Wells, The War of the Worlds by H.G. Wells, 2001: A Space Odyssey by Arthur C. Clarke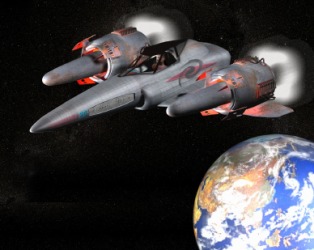 This could be a scene from a science fiction story.
---
science fiction
fiction of a highly imaginative or fantastic kind, typically involving some actual or projected scientific phenomenon
---
science fiction
noun
A literary or cinematic genre in which fantasy, typically based on speculative scientific discoveries or developments, environmental changes, space travel, or life on other planets, forms part of the plot or background.
Related Forms:
sci′ence-fic′tion

adjective
---
science fiction
Noun
(uncountable)
Fiction in which advanced technology and/or science is a key element.

Some people consider motion pictures such as the Star Wars movies more as fantasies than science fiction.

Technology that, while theoretically possible, is not yet practical.

Despite decades of research, mass-market personal aircraft are still science fiction.
---