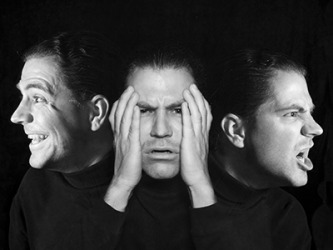 When a person receives a diagnosis of being schizo or having schizophrenia, adhering to a lifelong treatment plan is the key to maintaining good mental health.
noun
Schizophrenia is a mental disorder where you perceive things incorrectly, often imagining things that are not real.

An example of schizophrenia is a mental disorder where a person begins to hear voices in his head and believe they are real.
---
schizophrenia
a major mental disorder of unknown cause typically characterized by a separation between the thought processes and the emotions, a distortion of reality accompanied by delusions and hallucinations, a fragmentation of the personality, motor disturbances, bizarre behavior, etc., often with no loss of basic intellectual functions: this term has largely replaced dementia praecox, since it does not always result in deterioration (dementia) or always develop in adolescence or before maturity (praecox)
nontechnical term for multiple personality disorder

Informal

a situation, state of mind, etc. in which widely conflicting opinions, ideas, or practices coexist, often resulting in indecision, vacillation, wavering, etc.
Origin of schizophrenia
Modern Latin from schizo- + Classical Greek
phr?n
, the mind + -ia
---
schizophrenia
noun
A heterogeneous psychiatric disorder characterized by psychotic behavior including delusions, hallucinations, withdrawal from reality, and disorganized patterns of thinking and speech.
A situation or condition characterized by conflicting qualities, attitudes, or activities: the national schizophrenia that results from carrying out an unpopular war.
---
schizophrenia

Origin
First attested 1910, from New Latin, from German Schizophrenie, coined by Eugen Bleuler, from Ancient Greek σχίζω (skhizō, "I tear, split, cut") + φρήν (phrÄ"n, "mind, brain, diaphragm").
---