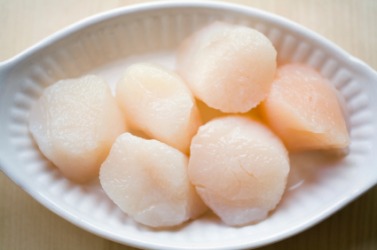 A bowl of raw scallops.
noun
The definition of a scallop is a mollusk in the bivalve family Pectinidae, or an ornamental curve.

An example of a scallop is a food that comes on a seafood combination platter.
An example of a scallop is a curved design on the edge of a tablecloth.
verb
Scallop is defined as to gather scallops, or to create a curved design, or to bake a food in a creamy sauce until it is brown.

An example of scallop is to use a net to catch scallops.
An example of scallop is to carve a carved design into a treasure chest.
An example of scallop is to make sliced potatoes in a mushroom sauce.
---
scallop
any of a family (Pectinidae) of bivalves with two deeply grooved, convex shells and an earlike wing on each side of the hinge, that swims by rapidly snapping its shells together to expel water in a jetlike manner
the edible large adductor muscle of such a mollusk
the single shell of such a mollusk; specif.,

one worn formerly as a badge by pilgrims returning from the Holy Land
one, or a dish shaped like one, in which fish or other food is baked and served

any of a series of curves, circle segments, projections, etc. forming an ornamental edge on cloth, lace, etc.
Origin of scallop
Middle English
scalop
from Old French
escalope
from
escale
: see scale
to cut the edge or border of in scallops
to bake until brown, as in a casserole, usually with a creamy sauce and a topping of bread crumbs
---
scallop
also scol·lop
noun
a. Any of various marine bivalve mollusks of the family Pectinidae, having fan-shaped shells with a radiating fluted pattern.

b. The edible adductor muscle of a scallop.

c. A shell of a scallop, or a dish in a similar shape, used for baking and serving seafood.

One of a series of curved projections forming an ornamental border.
See escalope .
verb
scal·loped, scal·lop·ing, scal·lops,
also
scol·loped
or
scol·lop·ing
or
scol·lops
verb
transitive
To edge (cloth, for example) with a series of curved projections.
To bake in a casserole with milk or a sauce and often with bread crumbs: scalloped potatoes.
To cut (meat) into thin boneless slices.
verb
intransitive
To gather scallops for eating or sale.
Origin of scallop
Middle English
scalop
from
Old French
escalope
shell
perhaps of Germanic origin
(
akin to
Dutch
schelp
seashell
)
or from
Old French
escale
scale
; see
scale
1
. Old French
(envel)ope
enveloping cover
(
from
enveloper
to envelop
; see
envelop
. )
Related Forms:
scallop
great scallop
Pecten maximus
---
scallop

Usage notes
To specify bivalves, rather than fillets of meat or potatoes, sea scallop and similar terms may be used instead. This is particularly done when several of these are used, such as in cookbooks and in parts of Australia.
Verb
(third-person singular simple present scallops, present participle scalloping, simple past and past participle scalloped)
to make or cook scallops
to bake in a casserole (gratin), originally in a scallop shell; especially used in form scalloped
(intransitive) to harvest scallops
Origin
From Old French escalope ("shell").
---