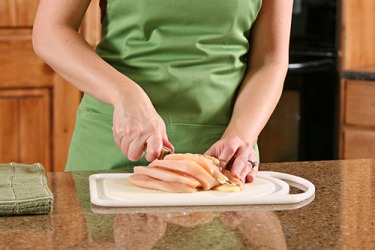 Wash your hands and cutting board with hot soapy water after preparing raw chicken to avoid salmonella contamination.
noun
Salmonella is a commonly-occuring bacteria that causes food poisoning and typhoid fever, or the type of food poisoning caused by this bacteria.

Facts About Salmonella

It is the second-highest reported incidence of food borne sickness.
Can be fatal if not treated properly. Every year salmonella poisoning causes roughly 600 fatalities.
Thousands of cases are never diagnosed because they are passed off as stomach flu or something much less severe.
Symptoms include dehydration, vomiting, diarrhea, muscle and joint pain.
Treatment usually just involves around five to seven days of rest and dilution of the bacteria through the ingestion of distilled water.
Rehydrating may also require the use of intravenous fluids.
Antibiotics may be required in order to ward off any long-term or severe effects of the infection.

When you touch raw chicken and get bacteria on your hands that makes you very ill, the bacteria is an example of salmonella.
---
salmonella
noun
pl.

-·lae

,

-·la

,

-·las
any of a genus (Salmonella) of Gram-negative, rod-shaped bacteria that cause various diseases in people and domestic animals, including typhoid fever and food poisoning
Origin of salmonella
ModL: so named after D. E.
Salmon
(1850-1914), United States pathologist
---
salmonella
noun
pl.
sal·mo·nel·lae,
or
sal·mo·nel·las
or
salmonella
Any of various rod-shaped bacteria of the genus Salmonella, especially S. enterica, which cause food poisoning, typhoid, and paratyphoid fever in humans and various infectious diseases in domestic animals. Salmonella bacteria are divided into numerous serotypes on the basis of certain antigens found in the cell wall and flagella.
Salmonellosis.
Origin of salmonella
New Latin
Salmonella
genus name
after Daniel Elmer
Salmon
(1850-1914), American pathologist
salmonella
salmonella bacterium
---
salmonella

Noun
(plural salmonellas or salmonellae)
Origin
From Salmonella, named for its discoverer, Daniel Elmer Salmon.
Usage notes
A shorthand nomenclature is used to designate serovars of the subspecies Salmonella enterica subsp. enterica. The nomenclature employs mixed italics and normal characters. For instance, the serovar "Salmonella enterica subsp. enterica serovar Typhimurium" is shortened to "Salmonella Typhimurium." There are over 2500 serovars of S. enterica subsp. enterica.
Origin
New Latin, from Salmon ("a surname") +"Ž -ella, after Daniel Elmer Salmon.
---