rhythmic

rhyth·mic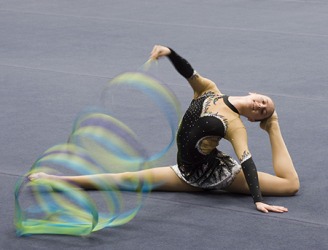 The rhythmic gymnast twirls a ribbon to enhance her artistic routine.
adjective
The definition of rhythmic is having a consistent beat or meter.

A swing song is an example of music that is rhythmic.
---
rhythmic
also rhyth·mi·cal
adjective
Of, relating to, or having rhythm; recurring with measured regularity.
Related Forms:
---
rhythmic

Adjective
(comparative more rhythmic, superlative most rhythmic)
Origin
From Ancient Greek ῥύθμικος (rhythmikos), from ῥυθμός (rhuthmos, "measured flow or movement, symmetry, rhythm"), from ῥέω (rheō, "flow, run, stream, gush"), + adjective suffix -ικος (-ikos).
---