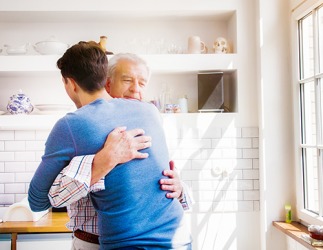 Charles was grateful for the chance to reunite with his son so he could apologize and make amends for the mistakes he made in the past.
verb
Reunite is defined as to bring back together.

An example of reunite is a father meeting his teenage son after not seeing him since he was an infant.
---
reunite
transitive verb
intransitive verb
-·nit′ed

,

-·nit′ing
to unite again; bring or come together again
Origin of reunite
from Medieval Latin
reunitus,
past participle of
reunire:
see re- and unite
---
reunite
tr. & intr.v.
re·u·nit·ed, re·u·nit·ing, re·u·nites
To bring or come together again.
---
reunite

Verb
(third-person singular simple present reunites, present participle reuniting, simple past and past participle reunited)
To unite again.

After ten years apart, the band will reunite.
Two of the members tried several times, but failed to reunite the band.
---