respiration

res·pi·ra·tion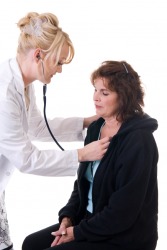 A doctor checks a woman's respiration.
noun
Respiration is taking a breath or the act of breathing.

An example of respiration is inhaling and exhaling air.
---
respiration
act or process of respiring; breathing; inhaling and exhaling air
the processes by which a living organism or cell takes in oxygen from the air or water, distributes and utilizes it in oxidation, and gives off products of oxidation, esp. carbon dioxide
an analogous process in anaerobic organisms involving some substance other than free oxygen
Origin of respiration
Middle English
respiracioun
from Classical Latin
respiratio
from
respiratus,
past participle
---
respiration
noun
a. The action or process of inhaling and exhaling; breathing. Also called ventilation .

b. An act of inhaling and exhaling; a breath.

The action or process by which an organism without lungs, such as a fish or plant, exchanges gases with its environment.

a. The oxidative process occurring within living cells by which the chemical energy of organic molecules is converted in a series of metabolic steps into usable energy in the form of ATP, involving the consumption of oxygen and the production of carbon dioxide and water as byproducts.

b. Any of various analogous metabolic processes by which certain organisms, such as anaerobic bacteria and some fungi, obtain energy from organic molecules without consuming oxygen.
Related Forms:
res′pi·ra′tion·al

adjective
---
respiration

Noun
(plural respirations)
Origin
Middle English respiracioun, from Latin respiratio, from respirare.
---