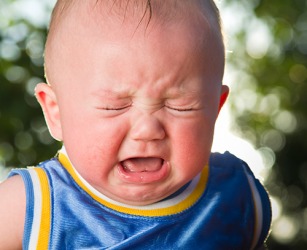 Jaxon became red faced when he wouldn't stop crying.
adjective
The definition of red faced is when the blood vessels in your skin widen causing blood to reach your face.

Causes of a Red Face

The most common reasons you blush are embarrassment, crying and anger. Adrenaline starts pumping your heart faster and your breathing increases and your facial blood vessels dilate, which causes blushing.
When weather or exercise heats up your body, it cools itself off by sweating and by sending more blood to the surface of your skin.
Alcohol causes your arteries to widen, but you may also have a genetic predisposition to this happening. Doctors call this "Alcohol Flush Reaction," which is caused by your body not being able to properly break down alcohol. This is a genetic condition, especially in people of South East Asian descent. That's why it is also called the "Asian Flush."
Rosacea is a chronic skin condition which causes facial redness.

An example of red faced is when a child's cheeks become crimson after a prolonged period of crying.
---
red-faced
having a red or ruddy face
showing, as by blushing, a feeling of embarrassment; ashamed
---
red-faced
adjective
Embarrassed: "They were caught red-handed, and now they are red-faced" ( Margaret Thatcher )
---
red-faced

Adjective
(comparative more redfaced, superlative most redfaced)
Alternative spelling of red-faced.
Adjective
(comparative more red-faced, superlative most red-faced)
Used other than as an idiom. Having a face that is the color red.
---