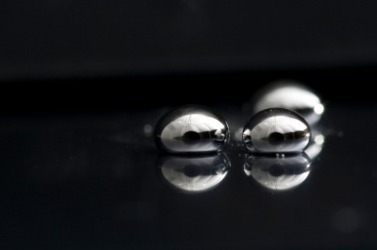 Quicksilver is another name for mercury.
Licensed from iStockPhoto
---
noun
mercury
Origin: Middle English from Old English cwicseolfor from cwicu, living (see quick) plush seolfor, silver: translated, translation of Classical Latin argentum vivum, literally , living silver: from its liquid form
transitive verb
to cover with mercury
adjective
of or like mercury
suggestive of mercury; specif., quick, lively, brilliant, etc.
Webster's New World College Dictionary
Copyright © 2010 by Wiley Publishing, Inc., Cleveland, Ohio.
Used by arrangement with John Wiley & Sons, Inc.
---
noun
adjective
Unpredictable; mercurial: "a quicksilver character, cool and willful at one moment, utterly fragile the next" (Sven Birkerts).
Origin: Middle English, from Old English cwicseolfor, living silver (translation of Latin argentum vīvum) : cwic, cwicu, alive; see gwei- in Indo-European roots + seolfor, silver; see silver.
The American Heritage® Dictionary of the English Language
, 4th edition Copyright © 2010 by Houghton Mifflin Harcourt Publishing Company. Published by Houghton Mifflin Harcourt Publishing Company. All rights reserved.
---
quicksilver - Computer Definition
(1) (QuickSilver Technology, Inc., San Jose, CA, www.qstech.com) A mobile communications company that specializes in a reconfigurable logic chip for cellphones and PDAs. See adaptive computing.
(2) A browser plug-in from Micrografx that allows a variety of vector drawings to be viewed from the Web.
(3) A family of dBASE III PLUS compilers developed by WordTech Systems, Inc. In 1992, the technology was acquired by Borland.
Computer Desktop Encyclopedia
THIS DEFINITION IS FOR PERSONAL USE ONLY
All other reproduction is strictly prohibited without permission from the publisher.
© 1981-2014 The Computer Language Company Inc. All rights reserved.