Mercury

Mer·cu·ry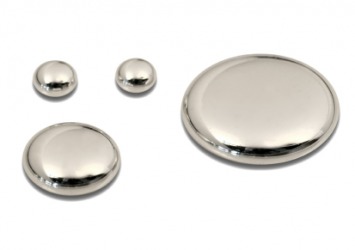 Drops of mercury.
The definition of Mercury is the closest planet to the sun.
Facts About Mercury the Planet
Mercury is composed of an iron core which is at least partially molten. That is surrounded by a mantle, which is rocky, and a crust.
The surface of Mercury resembles Earth's moon because it has a layer of silicates which are tiny particles.
There is no gravity to slow down meteoroids and no friction to burn them up, so the surface of Mercury is pocketed by craters.
The largest crater on Mercury is called Caloris Basin and is 800 miles in diameter.
There is ice made of water at Mercury's poles in deep craters.
Mercury has no moons or rings.
It has no substantial atmosphere. There is some oxygen, helium, hydrogen, sodium, calcium and potassium.
The orbit of Mercury around the sun is oval-shaped and ranges from 28.58 million miles to 48 million miles. It takes around 88 days to complete a single revolution around the Sun, faster than any other planet including Earth that takes 365 days to make the rotation.
Mercury's rotation on its axis is equal to about 58 Earth days.
There are extreme fluctuations in the temperature on Mercury. Temperatures can reach 840 degrees F, or 450 degrees C. Out of the sun, the surface can cool to -275 degrees F, or -170 degrees C.
An example of Mercury is a planet which is a little larger than the Earth's moon.
noun
The definition of mercury is a heavy, silver-white metal with an atomic number of 80 that is liquid at ordinary temperatures.

Facts About Mercury As a Metal

Its symbol is Hg, from the Latin hydrargyrum, meaning liquid silver.
Its boiling point is over 356 degrees Celsius, and it freezes at around minus 38 degrees Celsius.
It does not conduct heat very well, but is a fairly good conductor of electricity.
It has high surface tension and breaks up when poured or spilled onto a flat area, forming small beads which move around quickly.
It is used in thermometers because its expansion when heated is fairly constant, and in barometers because of its density.
It can be easily absorbed into your body through the skin, lungs, or by ingesting it.
You should never knowingly inhale or ingest mercury. Its vapor can be poisonous in concentrated amounts. It can: Damage your nervous system, cause brain and kidney damage, inhibit your immune system and lead to birth defects
It was also known as quicksilver, because of its appearance and it is liquid. It is the only metal which is liquid at room temperature.
Mercury was known to ancient civilizations including the Egyptians and the Chinese. It has been found in Egyptian tombs dating back to the second century B.C. Some thought it could heal and promote good health and used it as medicine.
Medieval alchemists thought that mercury became gold when it was in a solid state.

An example of mercury is the silver-white metal inside of a thermometer that is liquid at room temperature.
---
mercury
[M-]

Rom. Myth.

the messenger of the gods, god of commerce, manual skill, eloquence, cleverness, travel, and thievery: identified with the Greek Hermes
[M-] the smallest of the eight planets in the solar system and the one nearest to the sun: diameter, c. 4,880 km (c. 3,030 mi); period of revolution, 87.97 earth days; period of rotation, 58.65 earth days; symbol, ?

Origin of mercury

ME < ML mercurius < L, Mercurius, Mercury: so named by the alchemists because of its fluidity: see quicksilver

a heavy, silvery-white metallic chemical element, liquid at ordinary temperatures, which sometimes occurs in a free state but usually in combination with sulfur; quicksilver: it is used in thermometers, air pumps, electrical products, etc. and in dental fillings: symbol, Hg; at. no. 80
the mercury column in a thermometer or barometer

pl.

-·ries

Now Rare

a messenger or guide

Bot.

any of a genus (Mercurialis) of plants of the spurge family
an edible European plant (Chenopodium bonus-henricus) of the goosefoot family
Origin of mercury
Classical Latin
Mercurius,
Mercury, of Etruscan origin, originally
---
mercury
noun
Hg A silvery-white poisonous metallic element, liquid at room temperature and used in thermometers, barometers, vapor lamps, and batteries and in the preparation of chemical pesticides. Atomic number 80; atomic weight 200.59; melting point −38.83°C; boiling point 356.62°C; specific gravity 13.546 (at 20°C); valence 1, 2. Also called quicksilver . See Periodic Table.
Temperature: The mercury had fallen rapidly by morning.
Any of several weedy plants of the genera Mercurialis and Acalypha.
Origin of mercury
Middle English
mercurie
from
Medieval Latin
mercurius
from
Latin
Mercurius
Mercury
Mercury
top: detail from a ceiling fresco by Giovanni Battista Tiepolo
bottom: false-color image of the planet Mercury
Mercury
Mercury
noun
Roman Mythology A god that served as messenger to the other gods and was himself the god of commerce, travel, and thievery.
The smallest of the planets and the one nearest the sun, having a sidereal period of revolution about the sun of 87.97 days at a mean distance of 57.91 million kilometers (35.98 million miles) and a mean radius of approximately 2,440 kilometers (1,516 miles).
Origin of Mercury
Middle English
Mercurie
from
Old French
from
Latin
Mercurius
---
mercury

Noun
(uncountable)
A metal.

A silvery-colored, toxic, metallic chemical element, liquid at room temperature, with atomic number 80 and symbol Hg. [from 14th c.]
(sciences, historical) One of the elemental principles formerly thought to be present in all metals. [from 15th c.]
The mercury as used in a barometer or thermometer; ambient temperature. [from 17th c.]

The mercury there has averaged 37.6C, 2.3C above the February norm.

A plant.

An annual plant, Mercurialis annua, formerly grown for its medicinal properties; French mercury. [from 14th c.]
A similar edible plant, Chenopodium bonus-henricus, otherwise known as English mercury or allgood. [from 15th c.]
(US, regional) The poison oak or poison ivy. [from 18th c.]
Proper noun
(Roman mythology) The Roman god associated with speed, sometimes used as a messenger. He wore winged sandals. Mercury corresponded to the Greek god Hermes.
(astronomy) The planet in the solar system with the closest orbit to the Sun, named after the god; represented by ☿.
Noun
(plural Mercuries)
(dated) A newspaper.
Part or all of this entry has been imported from the 1913 edition of Webster's Dictionary, which is now free of copyright and hence in the public domain. The imported definitions may be significantly out of date, and any more recent senses may be completely missing.
Origin
From Latin Mercurius.
---