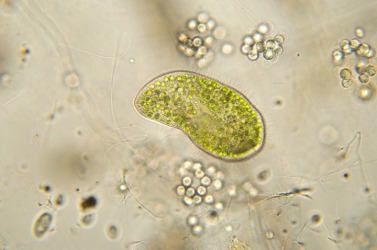 Paramecium bursaria is an example of a protist.
noun
Protist is the highest scientific classification of a group of one-celled organisms.

An example of a protist is the group of microscopic organisms that cause maleria.
---
protist
Biol.
in some systems of classification, any of a kingdom (Protista) of one-celled organisms, as algae, yeasts, or protozoans, having characteristics found in both plants and animals
Origin of protist
from Classical Greek
pr?tistos
, first from
pr?tos
, first: see proto-
---
protist
noun
Any of numerous eukaryotic organisms that are not fungi, plants, or animals and are chiefly unicellular or colonial. Protists that are multicellular do not have cells differentiated into tissues. The protists include the protozoans, certain algae, oomycetes, and slime molds.
Origin of protist
From
New Latin
Prōtista
former kingdom name
from
Greek
prōtista
neuter pl. of
prōtistos
the very first
superlative of
prōtos
first
; see
per
1
in Indo-European roots.
Related Forms:
pro·tis′tan

adjective

noun
---
protist

Noun
(plural protists)
(microbiology) Any of the eukaryotic unicellular organisms including protozoans, slime molds and some algae; historically grouped into the kingdom Protoctista.

single celled eukaryotes + prokaryotes + sponges [to 1959]
single-celled eukaryotes + prokaryotes [1959 - 1969]
single celled eukaryotes [1969 - ]
protistologist
protistology
protistological
---