possession

pos·ses·sion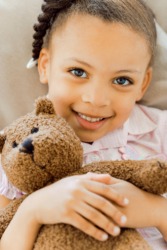 Her favorite teddy bear is her most special possession.
noun
Possession is the state of having something or something that is owned.

An example of possession is for a person to have their mother's keys in their pocket.
An example of possession is a person's favorite necklace.
---
possession
a possessing or being possessed, as by ownership or occupancy; hold
anything possessed
[pl.] property; wealth
territory ruled by an outside country
control of oneself

Sports

actual control of the ball or puck in play
Origin of possession
Old French from Classical Latin
possessio
---
possession
noun
a. The act or fact of possessing.

b. The state of being possessed: the land's possession by the town.

a. Something owned or possessed: removed his possessions from the desk.

b. A territory subject to foreign control.

Law

a. Power or control over something: possession of a firearm.

b. Occupation or control of a piece of property, with or without ownership.

c. A right of occupation and use: The tenant has possession of the apartment until the end of the lease.

d. The crime of possessing an illegal drug.

a. The state of being dominated or controlled by a demon or spirit.

b. The state of being occupied or obsessed with something, such as an idea.

Sports

a. Physical control of the ball or puck by a player or team.

b. An instance of this: Ideally, we would score on each possession.
Related Forms:
pos·ses′sion·al

adjective
---
possession

Noun
(plural possessions)
Something that is owned.

The car quickly became his most prized possession.
I would gladly give all of my worldly possessions just to be able to do that.

Ownership; taking, holding, keeping something as one's own.

The car is in my possession.
I'm in possession of the car.

A territory under the rule of another country.

Réunion is the largest of France's overseas possessions.

The condition or affliction of being possessed by a demon or other supernatural entity.

Back then, people with psychiatric disorders were sometimes thought to be victims of demonic possession.

(sports) Control of the ball; the opportunity to be on the offensive.

The scoreboard shows a little football symbol next to the name of the team that has possession.

(linguistics) A syntactic relationship between two nouns or nominals that may be used to indicate ownership.

Some languages distinguish between a construction like 'my car', which shows alienable possession "" the car could become someone else's "" and one like 'my foot', which has inalienable possession "" my foot will always be mine.
Usage notes
One who possesses is often said to have possession (of), hold possession (of), or be in possession (of).
One who acquires is often said to take possession (of), gain possession (of), or come into possession (of).
Verb
(third-person singular simple present possessions, present participle possessioning, simple past and past participle possessioned)
Part or all of this entry has been imported from the 1913 edition of Webster's Dictionary, which is now free of copyright and hence in the public domain. The imported definitions may be significantly out of date, and any more recent senses may be completely missing.
Origin
From Latin possessiō, possessiōnis.
---
possession - Computer Definition
The ownership or control of information, as distinct from confidentiality. For example, if confidential information such as a user ID-password combination is in a sealed container and the container is stolen, the owner justifiably feels that there has been a breach of security even if the container remains closed (this is a breach of possession or control over the information). Possession is one of the six fundamental components of information security (see Parkerian Hexad).
---
possession - Legal Definition
n
Immediate physical control, and, therefore, occupancy, of real property.
adverse possession
Having the power and intention of exercising control and dominion of real property, but lacking actual presence on or direct control of same.
criminal possession
Unlawful possession of proscribed articles, such as drugs, assault weapons, and so on, or being in possession of something that individual is proscribed from possessing.
hostile possession
See peaceable possession.
---