polarity

po·lar·i·ty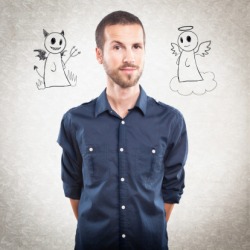 The polarity of Good vs. Evil can sometimes effect making the right decision.
noun
Polarity is defined as having two opposite tendencies or opposite electrical charges.

Good and evil are an example of polarity.
---
polarity
noun
pl.
-·ties
the tendency of bodies having opposite magnetic poles to arrange themselves so that their two extremities point to the two magnetic poles of the earth
any tendency to turn, grow, think, feel, etc. in a certain way or direction, as if because of magnetic attraction or repulsion
the fact or condition of being divided into two opposing groups
the having or showing of contrary qualities, powers, tendencies, forms, etc.: said as of the roots and stems of a plant or the two electrodes of a battery
the condition of being positive or negative with respect to some reference point or object, as electricity
---
polarity
noun
pl.
po·lar·i·ties
Intrinsic polar separation, alignment, or orientation, especially of a physical property: magnetic polarity; ionic polarity.
An indicated polar extreme: an electric terminal with positive polarity.
The possession or manifestation of two opposing attributes, tendencies, or principles: political polarity.
---
polarity

---
polarity - Computer Definition

The positive (+) or negative (
---
(1) The direction of charged particles, which may determine the binary status of a bit.
(2) In micrographics, the change in the light to dark relationship of an image when copies are made. Positive polarity is dark characters on a light background; negative polarity is light characters on a dark background.
---