plasma

plas·ma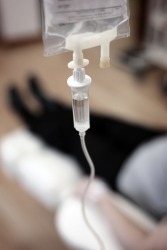 A patient is receiving plasma through an IV drip.
noun
Plasma is a colorless, watery fluid in the blood and lymph system where blood cells are suspended.

The colorless, watery fluid in your blood is an example of plasma.
---
plasma
a green, somewhat translucent variety of chalcedony
the fluid part of blood, lymph, milk, or intramuscular liquid; esp., the fluid part of blood, as distinguished from the corpuscles, used for transfusions
protoplasm

any highly ionized gas, as that in a glowing fluorescent lamp
a unique form of matter, as in a star, consisting of highly energized, freely moving ions and electrons

a plasma screen display
Origin of plasma
German from Gr, something molded from
plassein,
to form: see plastic
designating or of a flat-screen, high-definition video display consisting of a grid of tiny, gas-filled fluorescent cells that emit colors of varying intensities as the gas is ionized by an electrical signal
---
plasma
noun
also
plasm
a. The clear, yellowish fluid portion of blood, lymph, or intramuscular fluid in which cells are suspended. It differs from serum in that it contains fibrin and other soluble clotting elements.

b. Blood plasma, especially when sterilized and depleted of cells for transfusion.

Protoplasm or cytoplasm.
The fluid portion of milk from which the curd has been separated by coagulation; whey.
Physics An electrically neutral, highly ionized phase of matter composed of ions, electrons, and neutral particles. It is distinct from solids, liquids, and gases.
adjective
Of or relating to a flat-panel display used in televisions, made up of an array of tiny cells each containing a gaseous mixture of xenon and neon that is changed into a plasma state to illuminate a phosphor coating on the inside of the cell.
Origin of plasma
New Latin
from
Late Latin
image, figure
from
Greek
from
plassein
to mold
; see
pelə-
2
in Indo-European roots.
Related Forms:
plas·mat′ic plas′mic

adjective
---
plasma

Noun
(countable and uncountable, plural plasmas)
Origin
From Ancient Greek πλάσμα (plasma, "something formed")
---
plasma - Computer Definition
One of four states of matter (solid, liquid, plasma and gas). The plasma state is a gas that is heated to the point where it begins to release electrons. Although plasma occurs naturally on the sun and other stars, it is artificially produced in fluorescent lights and plasma displays by electrically charging a gas in order to release ultraviolet light. See plasma display and flat panel TV.
---