photosynthesis

pho·to·syn·the·sis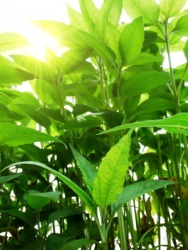 Plants use sunlight for photosynthesis.
noun
The definition of photosynthesis is the process through which plants use water and carbon dioxide to create their food, grow and release excess oxygen into the air.

Facts About Photosynthesis

Photosynthesis uses sunlight, carbon dioxide and water to produce oxygen, glucose and water.
The structure of the leaf allows for carbon dioxide and oxygen to enter and leave the leaf, which is where photosynthesis actually takes place.
The water from the leaves evaporates through the stomata, and filling its place, entering the stomata from the air, is carbon dioxide. Plants need carbon dioxide to make food.
The water given off cools a plant on a hot, sunny day, similar to the way human beings cool off when perspiring. A mature house plant can transpire its body weight daily.
The roots of the plant provide the water that is required for the process to proceed and the chlorophyll in the cells of the leaf absorbs the necessary sunlight.
Photosynthesis is not limited to green plants, it is also a process that occurs in certain algae, specifically blue-green algae and bacteria.

An example of photosynthesis is how plants convert sugar and energy from water, air and sunlight into energy to grow.
---
photosynthesis
the biological synthesis of chemical compounds in the presence of light
the production of organic substances, chiefly sugars, from carbon dioxide and water occurring in green plant cells supplied with enough light to allow chlorophyll to aid in the transformation of the radiant energy into a chemical form
Origin of photosynthesis
ModL: see photo- and synthesis
---
photosynthesis
noun
The process in green plants and certain other organisms by which carbohydrates are synthesized from carbon dioxide and a source of hydrogen (usually water), using light as an energy source. Most forms of photosynthesis release oxygen as a byproduct.
Related Forms:
pho′to·syn·thet′ic

adjective
pho′to·syn·thet′i·cal·ly

adverb
photosynthesis
A. sunlight is absorbed by chlorophyll in a leaf
B. carbon dioxide is taken in from the air
C. water is transported from the roots
D. glucose is synthesized and distributed throughout the plant
E. oxygen is released
---
photosynthesis

---