penumbra
pe·num·bra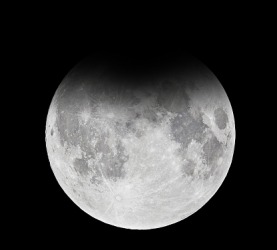 Full moon - penumbral lunar eclipse
noun
The definition of a penumbra is the lighted area around the shadow of a planet or moon during an eclipse.

An example of the penumbra is the outer lighted area surrounding the shadow of the moon which is created during an eclipse.
---
penumbra
pl.

-·brae·

or

-·bras
the partly lighted area surrounding the complete shadow (umbra) of a body, as the moon, during an eclipse
the less dark region surrounding the dark central area of a sunspot
a vague, indefinite, or borderline area
Origin of penumbra
Modern Latin ; from
paene,
almost (see passion) +
umbra,
shade
---
penumbra
noun
pl.
pe·num·bras
or
pe·num·brae
A partial shadow, as in an eclipse, between regions of complete shadow and complete illumination.
The diffuse outer part of a sunspot.
An area in which something exists to a lesser or uncertain degree: "The First Amendment has a penumbra where privacy is protected from governmental intrusion" (Joseph A. Califano, Jr.)
An outlying surrounding region; a periphery: "Downtown Chicago and its penumbra also stand rejuvenated" (John McCormick).
Origin of penumbra
New Latin
p&emacron;numbra
: Latin
paene
,
almost
+ Latin
umbra
,
shadow
.
Related Forms:
pe·num′bral, pe·num′brous

adjective
penumbra
---
penumbra
---