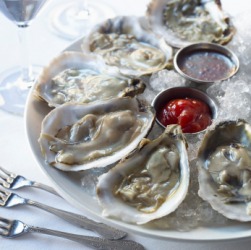 A plate of oysters on ice.
noun
The definition of an oyster is a bivalve mollusk with an irregular long shell that is normally attached to rocks and that is consumed as food.

A bivalve mollusk that is taken from the ocean and served raw as part of a seafood buffet is an example of an oyster.
---
oyster
any of various bivalve mollusks with an irregularly shaped, unequal shell, living attached to rocks, other shells, etc., and widely used as food
the soft, edible part of such a mollusk
the oyster-shaped bit of meat contained in a depression on each side of the pelvic bone of a fowl
something from which profit or advantage can be extracted: the world is my oyster

Informal

a taciturn person
Origin of oyster
Old French
oistre
from Classical Latin
ostrea
from Classical Greek
ostreon,
oyster; akin to
osteon,
a bone: see ossify
to gather, raise, or dredge oysters
---
oyster
noun
a. Any of several edible bivalve mollusks of the family Ostreidae, having a rough, irregularly shaped shell attached to the substrate in shallow marine waters. Oysters are widely cultivated for food.

b. Any of various similar or related bivalve mollusks, such as the pearl oyster.

An edible bit of muscle found in the hollow of the pelvic bone of a fowl.

a. A special delicacy.

b. Something from which benefits may be extracted.

Slang A close-mouthed person.
intransitive verb
oys·tered, oys·ter·ing, oys·ters
To gather, dredge for, or raise oysters.
Origin of oyster
Middle English
oistre
from
Old French
from
Latin
ostreum, ostrea
from
Greek
ostreon
; see
ost-
in Indo-European roots.
---
oyster

Noun
(plural oysters)
Any marine bivalve mollusk of the Family Ostreidae, usually found adhering to rocks or other fixed objects in shallow water along the seacoasts, or in brackish water in the mouth of rivers.
The delicate morsel of dark meat contained in a small cavity of the bone on each side of the lower part of the back of a fowl.
A pale beige color tinted with grey or pink, like that of an oyster.
Adjective
(comparative more oyster, superlative most oyster)
Of a pale beige colour tinted with grey or pink, like that of an oyster.
Verb
(third-person singular simple present oysters, present participle oystering, simple past and past participle oystered)
(intransitive) To fish for oysters.
Origin
Old English ostre, from Latin ostrea; reinforced or superseded in Middle English by Anglo-Norman oistre, from Old French oistre, uistre (modern French huître), also from Latin ostrea, from Ancient Greek ὄστρεον (ostreon).
---