adjective
The definition of obdurate is stubborn or not easily moved to sympathy.

An example of obdurate is a judge who sentences a man without feeling.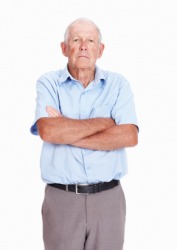 This man looks obdurate.
---
obdurate definition by Webster's New World
adjective
not easily moved to pity or sympathy; hardhearted
hardened and unrepenting; impenitent
not giving in readily; stubborn; obstinate; inflexible
Origin: Middle English ; from Classical Latin obduratus, past participle of obdurare, to harden ; from ob-, intensive (see ob-) plush durare, to harden ; from durus, hard: see duress
Webster's New World College Dictionary Copyright © 2010 by Wiley Publishing, Inc., Cleveland, Ohio. Used by arrangement with John Wiley & Sons, Inc.
---
obdurate definition by American Heritage Dictionary
adjective
a. Hardened in wrongdoing or wickedness; stubbornly impenitent: "obdurate conscience of the old sinner" (Sir Walter Scott).

b. Hardened against feeling; hardhearted: an obdurate miser.

Not giving in to persuasion; intractable. See Synonyms at inflexible.
Origin: Middle English obdurat, from Late Latin obdūrātus, past participle of obdūrāre, to harden, from Latin, to be hard, endure : ob-, intensive pref.; see ob- + dūrus, hard; see deru- in Indo-European roots.
Related Forms: