North Pole
noun
The North Pole is the northernmost point of the Earth's axis, or the location where Santa Clause lives according to children's stories.

The point in the Arctic Ocean at 90° north latitude is an example of the North Pole.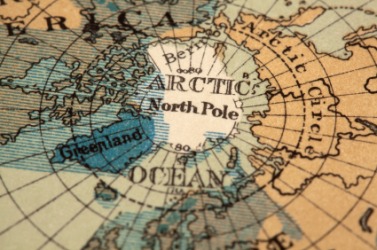 The North Pole on a globe
---
North Pole
the place where the northern rotational axis intersects the surface of a planet, moon, etc.
the zenith of such a place; esp., the zenith () of this place on the earth
that end of a straight magnet that points to the north when the magnet hangs free
the place on the earth where its northern rotational axis intersects its surface
---
North Pole
noun
a. The northern end of the earth's axis of rotation, a point in the Arctic Ocean.

b. The celestial zenith of this terrestrial point.

c. north pole The northern end of the axis of rotation of a planet or other celestial body.

north pole The north-seeking magnetic pole of a straight magnet.
North Pole
---
North Pole
Antonyms
(positive magnetic pole): negative pole, south pole, south-seeking pole, S-pole
---
North Pole
Variant of north pole
the place where the northern rotational axis intersects the surface of a planet, moon, etc.
the zenith of such a place; esp., the zenith () of this place on the earth
that end of a straight magnet that points to the north when the magnet hangs free
the place on the earth where its northern rotational axis intersects its surface