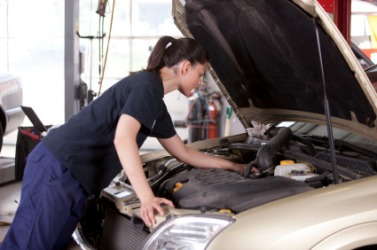 A mechanic checks the engine of a car.
noun
The definition of a mechanic is a person who makes, operates or repairs machines.

An example of a mechanic is the person who repairs your car.
---
mechanic
Origin of mechanic
Classical Latin
mechanicus
from Classical Greek
m?chanikos
from
m?chan?
, machine
a worker skilled in using tools or in making, operating, and repairing machines, often, specif., one whose occupation is repairing the engines, etc. of motor vehicles

Archaic

a manual laborer
---
mechanic
noun
A worker skilled in making, using, or repairing machines, vehicles, and tools.
Origin of mechanic
From
Middle English
mechanical
from
Old French
mecanique
from
Latin
mēchanicus
from
Greek
mēkhanikos
from
mēkhanē
machine, device
; see
magh-
in Indo-European roots.
Related Forms:
---
mechanic

Adjective
(archaic) mechanical; relating to the laws of motion in the art of constructing things
Thomson

Sometimes he ply'd the strong, mechanic tool.
Origin
From Middle English mechanike ("mechanic art"), from Old French mecanique, from Latin mechanicus ("of or belonging to machines or mechanics, inventive"), from Ancient Greek μηχανικός (mÄ"khanikos, "pertaining to machines or contrivance, mechanic, ingenious, inventive"), from μηχανή (mÄ"khanÄ", "a machine, contrivance"); see machine.
---