noun
The definition of a mechanic is a person who makes, operates or repairs machines.

An example of a mechanic is the person who repairs your car.
YourDictionary definition and usage example. Copyright © 2013 by LoveToKnow Corp.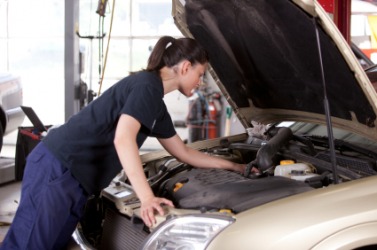 A mechanic checks the engine of a car.
Licensed from iStockPhoto
---
adjective
Origin: L mechanicus from Glassical Greek mēchanikos from mēchanē, machine
noun
a worker skilled in using tools or in making, operating, and repairing machines

Archaic

a manual laborer
Webster's New World College Dictionary
Copyright © 2010 by Wiley Publishing, Inc., Cleveland, Ohio.
Used by arrangement with John Wiley & Sons, Inc.
---
noun
A worker skilled in making, using, or repairing machines, vehicles, and tools.
Origin: From Middle English, mechanical, from Old French mecanique, from Latin mēchanicus, from Greek mēkhanikos, from mēkhanē, machine, device; see magh- in Indo-European roots.
Related Forms:
The American Heritage® Dictionary of the English Language
, 4th edition Copyright © 2010 by Houghton Mifflin Harcourt Publishing Company. Published by Houghton Mifflin Harcourt Publishing Company. All rights reserved.