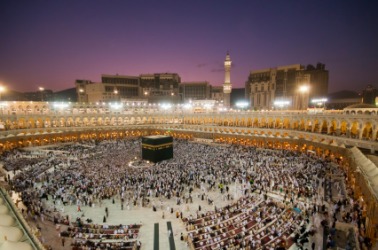 Pilgrims surround the Kaaba in the city of Mecca.
noun
Mecca is defined as a city in Saudi Arabia that Muslims consider to be a holy city in Islam, or any place that is the center of an activity and attracts many visitors with a similar interest.

A part of town that attracts lots of young professionals is an example of a place that could be referred to as a mecca for young professionals.
---
Mecca
any place that draws tourists or visitors of a certain kind: Cooperstown is a Mecca for baseball fans
any place that one yearns to go to
any goal that one is seeking to achieve
Origin of Mecca
after Mecca: every Muslim is expected to make a pilgrimage to Mecca
city in W Saudi Arabia, near the Red Sea: birthplace of Muhammad and hence a holy city & destination for pilgrims in Islam: Ar. name Makkah
---
mecca
noun
a. A place that is regarded as the center of an activity or interest.

b. A goal to which adherents of a religious faith or practice fervently aspire.

A place visited by many people: a mecca for tourists.
Origin of mecca
After
Mecca
(
from its being a place of pilgrimage
)
Mecca
A city of western Saudi Arabia near the coast of the Red Sea. The birthplace of Muhammad, it is the holiest city of Islam and a pilgrimage site for devout Muslims.x
Related Forms:
---
mecca

Noun
(plural meccas)
Alternative form of Mecca.
Noun
(plural Meccas)
(figuratively) Any place considered to be a very important place to visit by people with a particular interest.
---