lectern

lec·tern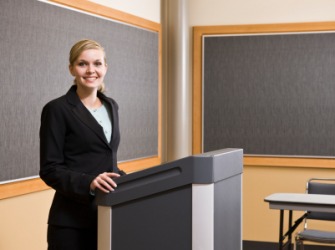 A woman standing at a lectern.
noun
The definition of a lectern is a stand with an area on top to hold books or notes.

An example of a lectern is a tall podium with a slanted top for books and notes that is located in front of the class and that the professor stands in front of when teaching classes.
---
lectern
a reading desk in a church, esp. such a desk from which a part of the Scriptures is read in a church service
a stand for holding the notes, written speech, etc., as of a lecturer
Origin of lectern
Middle English
lectorne
, altered (infl. by Classical Latin forms) from earlier
lettrun
from Old French from Medieval Latin
lectrum
from Classical Latin
lectus
, past participle of
legere
, to read: see logic

---
lectern
noun
A reading desk with a slanted top used to hold a sacred text from which passages are read in a religious service.
A stand that serves as a support for the notes or books of a speaker.
Origin of lectern
Middle English
lettorne, lectorn
from
Old French
lettrun
from
Medieval Latin
lēctrīnum
from
Late Latin
lēctrum
from
Latin
lēctus
past participle of
legere
to read
; see
leg-
in Indo-European roots.
---
lectern

Usage notes
While podium is a more commonly used synonym, particularly for secular lecturing, some reject this usage and instead insist on lectern - see usage notes at podium.
Origin
15th century partial re-Latinization of early 14th century Middle English lettorne, lettron, from Old French leitrun, from Medieval Latin lectrinum, from Late Latin lectrum, from lectus (from whence also lecture), form of Latin legō ("I read").
---