pulpit

pul·pit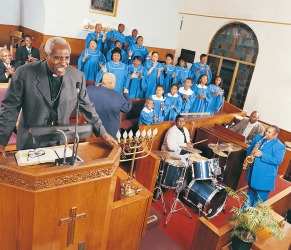 The preacher gives a sermon from the pulpit.
noun
The definition of a pulpit is a raised platform from which speeches or sermons are given.

A raised podium in church from which the priest delivers his sermon is an example of a pulpit.
---
pulpit
a raised platform or high lectern from which a clergyman preaches in a church
preachers collectively
the work of preaching

a raised or enclosed area; esp., an elevated control room, as in a steel mill
Origin of pulpit
Middle English
pulpet
from Classical Latin
pulpitum
, stage, scaffold (in Late Latin and ML, pulpit) from uncertain or unknown; perhaps
---
pulpit
noun
An elevated platform, lectern, or stand used in preaching or conducting a religious service.

a. Clerics considered as a group.

b. The ministry of preaching.

An elevated metal guardrail extending around the bow or stern of a yacht or other small vessel.
An elevated platform, such as one used by harpooners in a whaling boat.
A bully pulpit.
Origin of pulpit
Middle English
from
Old French
from
Late Latin
pulpitum
from
Latin
wooden platform
---
pulpit

Origin
From Latin pulpitum ("platform").
---