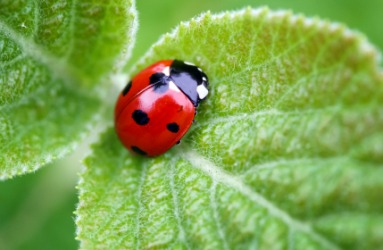 A ladybug on a leaf.
noun
The definition of a ladybug is a small, roundish-shaped flying insect with a brightly colored back covered in black spots.

An example of a ladybug is a small round red bug that feeds on aphids.
---
ladybug
any of a family (Coccinellidae) of small, roundish beetles with spotted backs, usually brightly colored: they feed chiefly on insect pests and their eggs
Origin of ladybug
see ladybird
---
ladybug
noun
Any of numerous small, rounded, usually colorful beetles of the family Coccinellidae, often reddish with black spots and feeding primarily on other insects, including pests such as scale insects and aphids. Also called lady beetle . Also called ladybird .
Origin of ladybug
Probably from its seven spots being considered a symbol of the seven sorrows of the Virgin Mary
---
ladybug

Noun
(plural ladybugs)
(North America) any beetle of the Coccinellidae family of beetles, typically having a round shape and a colorful shell.
---