noun
Junk mail is defined as unwanted catalogs, advertisements, coupons and other offerings that are delivered to you via postal mail or email.

An email encouraging you to enter a sweepstakes is an example of junk mail.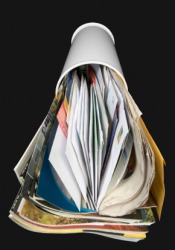 A box filled with junk mail.
---
junk mail
☆
advertisements, solicitations, etc. mailed in large quantities, usually by third-class mail
---
junk mail
---
junk mail
Noun
(countable and uncountable, plural junk mails)
Any mail or letters that are not welcome or solicited and typically sent in bulk; especially mail of a commercial nature such as advertising circulars and form letters.
---
junk mail - Computer Definition
---
---