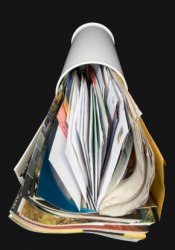 A box filled with junk mail.
noun
Junk mail is defined as unwanted catalogs, advertisements, coupons and other offerings that are delivered to you via postal mail or email.

An email encouraging you to enter a sweepstakes is an example of junk mail.
---
junk mail
advertisements, solicitations, etc. mailed in large quantities
---
junk mail
noun
Third-class mail, such as advertisements, mailed indiscriminately in large quantities.
---
junk-mail

---
junk mail - Computer Definition

---
---