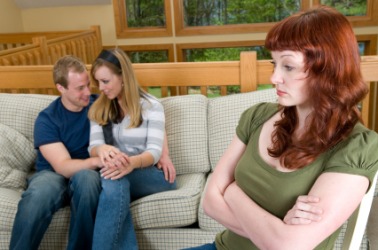 A woman experiences jealousy over this couples affection.
noun
The definition of jealousy is a state or feeling of being envious or of wanting what someone else has.

The emotion that you feel when you watch your true love marry another person is an example of jealousy.
---
jealousy
the quality or condition of being jealous
pl.

-·ous·ies

an instance of this; jealous feeling
Origin of jealousy
Middle English
jalousie
from Old French
gelosie
from
gelos:
see jealous
---
jealousy
noun
pl.
jeal·ous·ies
A jealous attitude or disposition. See Usage Note at jealous.
Close vigilance.
---
jealousy

Noun
(countable and uncountable, plural jealousies)
(uncountable) A state of suspicious guarding towards a spouse, lover etc., from fears of infidelity.
(countable) A resentment towards someone for a perceived advantage or superiority they hold.
Envy towards another's possessions
(archaic) A close concern for someone or something, solicitude, vigilance.
---