adjective
The definition of irreparable is something that cannot be mended or fixed.

If someone lies to you and you will never trust that person again, this is a time when the damage to your relationship is irreparable.
If a vase breaks into 1000 pieces, this is an example of a time when the vase is irreparable.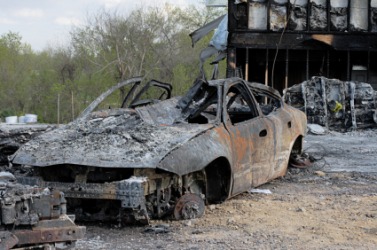 This car is irreparable.
---
irreparable definition by Webster's New World
adjective
not reparable; that cannot be repaired, mended, remedied, etc.
Origin: Middle English irreperable ; from Old French irréparable ; from Classical Latin irreparabilis
Webster's New World College Dictionary Copyright © 2010 by Wiley Publishing, Inc., Cleveland, Ohio. Used by arrangement with John Wiley & Sons, Inc.
---
irreparable definition by American Heritage Dictionary
adjective
Impossible to repair, rectify, or amend: irreparable harm; irreparable damages.
Origin: Middle English, from Old French, from Latin irreparābilis : in-, not; see in-1 + reparābilis, reparable; see reparable.
Related Forms:
ir·repˌa·ra·bilˈi·ty, ir·repˈa·ra·ble·ness

noun