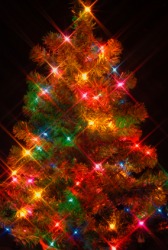 Lights interspersed on a Christmas tree.
---
intersperse definition by Webster's New World
transitive verb
interspersed, interspersing
to scatter among other things; put here and there or at intervals
to decorate or diversify with things scattered here and there
Origin: ; from Classical Latin interspersus, past participle of interspergere ; from inter-, among plush spargere, to scatter: see spark
Webster's New World College Dictionary Copyright © 2010 by Wiley Publishing, Inc., Cleveland, Ohio. Used by arrangement with John Wiley & Sons, Inc.
---
intersperse definition by American Heritage Dictionary
transitive verb
in·ter·spersed
,
in·ter·spers·ing
,
in·ter·spers·es
To distribute among other things at intervals: interspersed red and blue tiles on the walls; intersperse praise with constructive criticism.
To supply or diversify with things distributed at intervals: interspersed lamp fixtures on the large ceiling; a newspaper section that was interspersed with advertisements.
Origin: From Latin interspergere, interspers- : inter-, inter- + spargere, to scatter.
Related Forms:
inˌter·spersˈed·ly

adverb