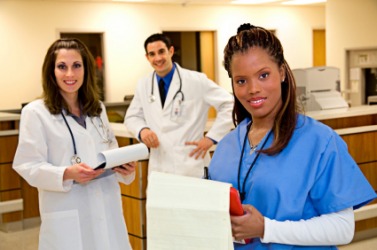 A group of medical interns.
noun
The definition of an intern is a student or recent graduate going through a supervised training in their chosen profession or a new physician training at a hospital.

An example of an intern is a student teacher.
An example of an intern is an doctor who has just graduated from medical school.
verb
To intern is defined as to detain and keep someone or something from moving.

An example of to intern is to stop a foreign person from returning to their home country.
---
intern
a doctor serving an apprenticeship as an assistant resident in a hospital generally just after graduation from medical school
a person, esp. a student, participating in a program of temporary, supervised work in a particular field in order to gain practical experience
Origin of intern
French
interne
, resident within from Classical Latin
internus
, inward: see internal
to detain or confine (foreign persons, ships, etc.), as during a war
---
intern
also in·terne
noun
a. A student or a recent graduate undergoing supervised practical training.

b. A physician who has recently graduated from medical school and is learning medical practice in a hospital under supervision, prior to beginning a residency program.

One who is interned; an internee.
verb
in·terned, in·tern·ing, in·terns
verb
intransitive
To train or serve as an intern.
verb
transitive
To confine, especially in wartime.
Origin of intern
French
interne
from
Latin
internus
internal
; see
internal
.
Related Forms:
---
intern

---