injection

in·jec·tion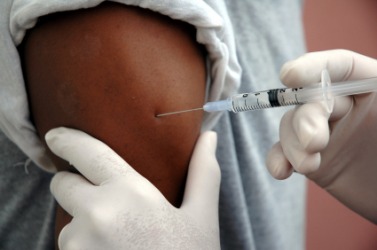 A person recieves an injection.
noun
The definition of an injection is the act of pumping something in, or something that has been pumped in.

An example of an injection is a flu shot.
---
injection
an act or instance of injecting
something injected; esp.,

a liquid injected into the body
a fuel under pressure forced into a combustion chamber
Origin of injection
Classical Latin
injectio
---
injection
noun
The act of injecting.
Something that is injected, especially a dose of liquid medicine injected into the body.
Mathematics A function that is one-to-one.
Origin of injection
Sense 3,
in-
2
(pro)jection
---
injection

Noun
(plural injections)
(specifically, medicine) Something injected subcutaneously, intravenously, or intramuscularly by use of a syringe and a needle.
(set theory) A function that maps distinct x in the domain to distinct y in the codomain; formally, a f: X → Y such that f(a) = f(b) implies a = b for any a, b in the domain.
(mathematics) A relation on sets (X,Y) that associates each element of Y with at most one element of X.
(figuratively) The addition of money to someone, or to a business.

The troubled business received a much-needed cash injection.

(programming) The insertion of program code into an application, URL, hardware, etc.

a SQL injection exploit allowing a malicious user to modify a database query

A specimen prepared by injection.
(steam engines) The cold water thrown into a condenser to produce a vacuum.
Origin
From Middle French injection, from Latin iniectio
See also:
înjection
---