inoculation

in·oc·u·la·tion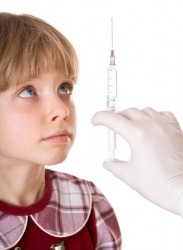 A little girl about to receive an inoculation.
noun
The definition of an inoculation is the action of being vaccinated, or is the vaccine.

When you go and get a shot so you do not get the measles, this is an example of an inoculation.
---
inoculation
the act or process of inoculating; esp.,
the injection of a disease agent into an animal or plant, usually to cause a mild form of the disease and build up immunity to it
the putting of bacteria, serum, etc. into soil, a culture medium, etc.
Origin of inoculation
Classical Latin
inoculatio
---
inoculation
noun
The act or an instance of inoculating, especially the introduction of an antigenic substance or vaccine into the body to produce immunity to a specific disease.
---
inoculation

---