homestead

home·stead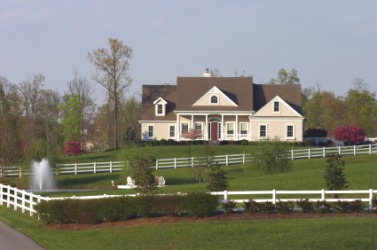 A country homestead.
noun
Homestead is defined as a house and the land surrounding it.

A family farm is an example of a homestead.
---
homestead
a place where a family makes its home, including the land, house, and outbuildings

Law

such a place occupied by the owner and his family and exempted from seizure or forced sale to meet general debts
a tract of public land (160 acres by the

Homestead Act

of 1862) granted by the U.S. government to a settler to be developed as a farm
Origin of homestead
Old English
hamstede
: see home and stead
to become a settler on a homestead
to settle on as a homestead
---
homestead
noun
A house, especially a farmhouse, with adjoining buildings and land.
Law Property qualifying as a person's home under certain laws, such as laws providing tax abatements and exemptions, survivorship rights for spouse and children, and immunity from claims of creditors.
Land claimed by a settler or squatter, especially under the Homestead Act.
The place where one's home is.
verb
home·stead·ed, home·stead·ing, home·steads
verb
intransitive
To settle and farm land, especially under the Homestead Act.
verb
transitive
To claim and settle (land) as a homestead.
Related Forms:
---
homestead

Noun
(plural homesteads)
a house together with surrounding land and buildings, especially on a farm

the place that is one's home
(South Africa) A cluster of several houses occupied by an extended family
The home or seat of a family; place of origin.
---
homestead - Legal Definition
n
Houses, other buildings, and land comprising a residence.
---