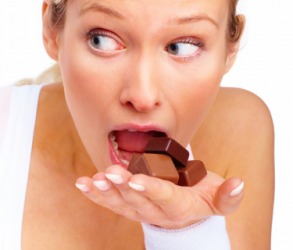 This woman hankers for chocolate.
verb
The definition of hanker is to long for something.

Wanting chocolate desperately is an example of hanker.
---
hanker
to crave, long, or yearn: followed by after, for, or an infinitive
Origin of hanker
Early ModE, probably from Dutch or Low German source, as in Flemish
hankeren
, to desire, long for, Dutch
hunkeren
, frequentative formation and metaphoric extension from base of hang
---
hanker
intransitive verb
han·kered, han·ker·ing, han·kers
To have a strong, often restless desire.
Origin of hanker
Perhaps from
Dutch dialectal
hankeren
; see
konk-
in Indo-European roots.
Related Forms:
---
hanker

Verb
(third-person singular simple present hankers, present participle hankering, simple past and past participle hankered)
---