noun
The definition of a hangover is defined as something left over, or feeling badly the morning after you consume too much alcohol.

When a restaurant is still decorated in the old theme even though the restaurant now has a new theme, this is an example of a hangover in the decor.
When you have a headache and throw up the morning after you drank too much at a party, this is an example of a hangover.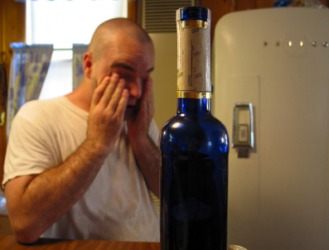 This man has a hangover.
---
hangover definition by Webster's New World
☆
noun
something remaining from a previous time or state; a survival
headache, nausea, etc. as an aftereffect of drinking much alcoholic liquor
Webster's New World College Dictionary Copyright © 2010 by Wiley Publishing, Inc., Cleveland, Ohio. Used by arrangement with John Wiley & Sons, Inc.
---
hangover definition by American Heritage Dictionary
noun
Unpleasant physical effects following the heavy use of alcohol.
A letdown, as after a period of excitement.
A vestige; a holdover: hangovers from prewar legislation.