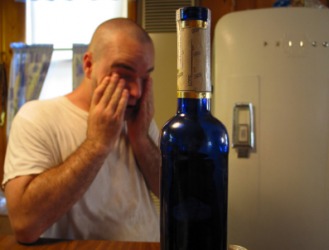 This man has a hangover.
noun
The definition of a hangover is defined as something left over, or feeling badly the morning after you consume too much alcohol.

When a restaurant is still decorated in the old theme even though the restaurant now has a new theme, this is an example of a hangover in the decor.
When you have a headache and throw up the morning after you drank too much at a party, this is an example of a hangover.
---
hangover
something remaining from a previous time or state; a survival
a condition characterized by headache, nausea, etc. as an aftereffect of drinking much alcoholic liquor
---
hangover
noun
A temporary, unpleasant physical condition, typically characterized by headache and nausea, following the consumption of an excessive amount of alcohol.
A letdown, as after a period of excitement.
A vestige; a holdover: hangovers from prewar legislation.
---
hangover

Noun
(plural hangovers)
Illness caused by a previous bout of alcohol drinking.

I really enjoyed yesterday's party, but now I have the biggest hangover — I'll not be doing that again any time soon.

An unpleasant relic left from prior events.
---