Halloween

Hal·low·een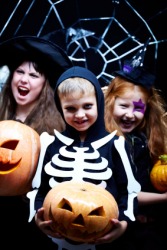 Children celebrating Halloween.
noun
The definition of Halloween is a holiday celebrated in the U.S., Canada and the British Isles on October 31st where people dress in costumes and children go door to door asking for candy.

An example of Halloween is when children dress as ghosts and witches and go to neighbor's doors saying "Trick or treat!"
---
Halloween
or Hal·low·e'en′
the day or, esp., the evening of Oct. 31, now generally celebrated by masquerading, trick-or-treating, displaying jack-o'-lanterns, etc.
Origin of Halloween
contr. from
all hallow even
(see Allhallows);
hallow
from Old English
halga
, definite form of
halig
(see holy) in sense "holy person, hence saint"
---
Halloween
also Hal·low·e'en
noun
October 31, celebrated in the United States, Canada, and the British Isles by children going door to door while wearing costumes and asking for treats and playing pranks.
Origin of Halloween
Short for
All Hallow Even
Allhallow(mas)
even
2
---
halloween

Origin
A shortening of All-Hallow-even, All Hallows' Eve (the name of the evening before All Saints Day).
---