global warming
global warming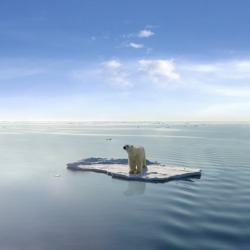 Melting polar ice caps are the result of global warming.
noun
The definition of global warming is the continuing slight increase in the Earth's average temperature which scientists believe will result in climate change throughout the world.

Facts About Global Warming

Although scientists are not absolutely certain what causes global warming, it is thought that the burning of fossil fuels and deforestation plays a large role.

Burning fossil fuels and deforestation have caused the concentrations of heat-trapping "greenhouse gases" such as carbon dioxide, nitrous oxide, water vapor and methane to increase in the atmosphere - preventing heat from escaping much like the glass panels of a greenhouse.
As the Earth's temperature increases, the planet's ice cover will begin to melt, causing sea levels to rise.
Sea levels have significantly increased by as much a four to eight inches. By the year 2100, the rise in sea level is prediced to be approximately 10.2 inches and an additional 27 feet would be added from the melting of land ice. The city of New York and any other low level areas of the entire east coast would be subjected to disastrous flooding.
The rise in sea level could have the potential to not only swallow land along the coast, but to dump salt water in otherwise fresh water habitats such as marshes and wetlands.
Precipitation will increase in the polar, sub-polar, and equatorial regions and will decrease in the subtropics. bringing drought in certain regions and floods in other areas.
As the surface of the Earth heats up, unseasonal temperatures and weather phenomenon have become the norm in many areas of the world, causing changes in land productivity, drought, and flooding.
The rise in the Earth's temperature will greatly affect the biodiversity of all ecosystems. Species will become more vulnerable to extinction.
Global warming will affect people's supplies of food and water.

An example of global warming is sea levels rising due to polar ice caps melting.
An example of global warming is when the heat and light from the sun can enter the atmosphere but cannot escape from it, causing the temperature to rise.
An example of global warming is Andean glaciers melting so rapidly that water and food supplies in Colombia, Argentina, Bolivia, Peru, Chile, Venezuela, and Ecuador are expected to be at risk within 15 to 25 years.
---
global warming
a slight but continuing increase in the temperature of the lower atmosphere, usually attributed to an intensifying of the greenhouse effect due to human activity and regarded as ultimately resulting in harmful or devastating climatic conditions
---
global warming
noun
An increase in the average temperature of the earth's atmosphere, especially a sustained increase sufficient to cause climatic change.
---
global-warming

---