fungus

fun·gus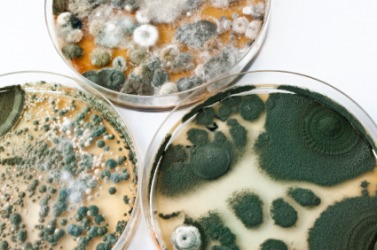 Fungus!
noun
The definition of a fungus is an organism that feeds on organic matter.

Yeast is an example of a fungus.
Athletes foot is an example of a fungus.
---
fungus
noun
pl.

fun′gi·

or

fun′guses
any of a large division (Eumycota) of thallophytes, including molds, mildews, mushrooms, rusts, and smuts, that are parasites on living organisms or that feed upon dead organic material: fungi lack chlorophyll, true roots, stems, and leaves, and reproduce by means of spores: in some systems of biological classification, these organisms are placed in a separate kingdom (Fungi) and are not considered to be plants
something that grows suddenly and rapidly like a fungus
Origin of fungus
L, a mushroom, fungus from Classical Greek dialect, dialectal (Attic)
sphongos
, variant, variety of Classical Greek
spongos
, sponge
of, like, or caused by a fungus; fungous
---
fungus
noun
pl.
fun·gi,
or
fun·gus·es
Any of numerous spore-producing eukaryotic organisms of the kingdom Fungi, which lack chlorophyll and vascular tissue and range in form from a single cell to a mass of branched filamentous hyphae that often produce specialized fruiting bodies. The kingdom includes the yeasts, smuts, rusts, mushrooms, and many molds, excluding the slime molds and the water molds.
Origin of fungus
Latin
perhaps akin to
Greek
spongos, sphongos
sponge
---
fungus

Usage notes
The plural form fungi comes directly from the Latin. See that entry for information about the several English pronunciations in use.
Origin
From Latin fungus ("mushroom"). Compare Ancient Greek σπόγγος (spongos).
---