forum

fo·rum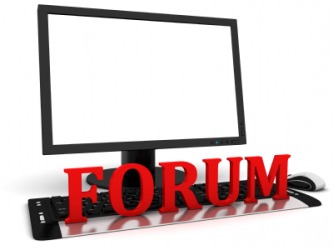 An online message board is an example of a forum.
noun
The definition of a forum is a place or a method for discussion.

An example of a forum is an online message board.
---
forum
pl.

-·rums

or

-·ra

the public square or marketplace of an ancient Roman city or town, where legal and political business was conducted
a law court; tribunal

an assembly, place, radio program, Internet site, etc. for the discussion of public matters or current questions
an opportunity for open discussion
Origin of forum
L, area out-of-doors, marketplace, origin, originally uncertain or unknown; perhaps area with board fence from
forus
, board from Indo-European an unverified form
bhoros
: see bar
the Forum
the forum of ancient Rome
---
forum
noun
pl.
fo·rums,
also
fo·ra
a. The public square or marketplace of an ancient Roman city that was the assembly place for judicial activity and public business.

b. A public meeting place for open discussion.

c. A medium for open discussion or voicing of ideas, such as a newspaper, a radio or television program, or a website.

A public meeting or presentation involving a discussion usually among experts and often including audience participation.

a. An area of legal authority; a jurisdiction.

b. A court of law or tribunal.
Origin of forum
Middle English
from
Latin; see
dhwer-
in Indo-European roots.
---
forum

Noun
(plural forums or fora)
A place for discussion.
A gathering for the purpose of discussion.
A form of discussion involving a panel of presenters and often participation by members of the audience.
(Internet) An Internet message board where users can post messages regarding one or more topics of discussion.

Trish was an admin member on three forums, and had no trouble at all when it came to moderating them.

(in a Roman town) a square or marketplace used for public business and commerce.
Usage notes
The English plural forums is preferred to the Latin plural fora in normal English usage.
Ref: Modern English Usage, 2nd Edition, ed. Sir Ernest Gowers, Oxford 1968 (article '-um', p.658).
Also, "The Oxford Dictionary of American Usage and Style," by Bryan A. Garner. Berkley Books, 2000, (p. 156).
Origin
From Latin forum ("public market place", "forum").
---
forum - Computer Definition
---
forum - Legal Definition
n
A public place, typically devoted to communication or expression; in litigation, a particular court or jurisdiction.
---