noun
Fallout is defined as the consequence or result of something, or radioactive particles from a nuclear explosion.

When you get a divorce and, as a result, your friends have to choose sides and you are lonely, these are examples of the fallout of the divorce.
When a nuclear bomb is dropped on a city, the radioactive particles that remain in the air are an example of the fallout.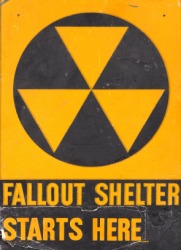 A sign for a fallout shelter.
---
fallout definition by Webster's New World
noun
☆ the descent to earth of radioactive particles, as after a nuclear explosion
☆ these particles
whatever comes as an incidental consequence
Webster's New World College Dictionary Copyright © 2010 by Wiley Publishing, Inc., Cleveland, Ohio. Used by arrangement with John Wiley & Sons, Inc.
---
fallout definition by American Heritage Dictionary
noun
a. The slow descent of minute particles of debris in the atmosphere following an explosion, especially the descent of radioactive debris after a nuclear explosion.

b. The particles that descend in this fashion.

An incidental result or side effect: "Other social trends also have psychiatric fallout, and the people who suffer can't afford treatment" (Martha Farnsworth Riche).