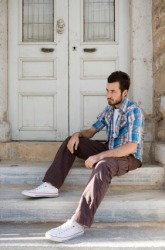 A man sitting on his doorstep.
---
doorstep
noun
a step that leads from an outer door to a path, lawn, etc.
---
doorstep
---
doorstep
Noun
(plural doorsteps)
(figuratively) One's immediate neighbourhood or locality.

They want to build the prison right on our doorstep; it will only be half a mile away and being that close scares me.
Verb
(third-person singular simple present doorsteps, present participle doorstepping, simple past and past participle doorstepped)
Anagrams
droopest
optrodes
pet doors
torpedos
---