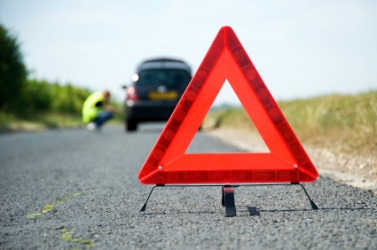 This red triangle warns of a disabled car ahead.
adjective
The definition of disabled is not working correctly or someone who isn't able to do standard physical or mental tasks.

An example of something disabled is a car on the side of the road that isn't running, called a disabled car.
An example of disabled is a paraplegic who can't walk, called a disabled person.
noun
The disabled are defined as the group of people with physical or mental difficulties.

An example of the disabled are the people helped by the Americans with Disabilities Act of 1990.
---
disabled
not in proper working order; out of commission: a disabled ship
having a physical or mental disability
the disabled
those who are physically or mentally disabled; the handicapped
---
disabled
adjective
Having become or having been rendered inoperative: a disabled vehicle.
Having a disability: a disabled veteran.
noun
used with a pl. verb People with physical or mental impairments, considered as a group. rights of the disabled.
Usage Note: Disabled is the clear preference in contemporary American English for referring to people having either physical or mental impairments, with the impairments themselves preferably termed disabilities. Handicapped —a term derived from the world of sports gambling—is still in wide use but is often taken to be offensive, while more recent coinages such as differently abled or handicapable tend to be perceived as condescending euphemisms and have gained little currency. • The often-repeated recommendation to put the person before the disability would favor persons with disabilities over disabled persons and person with paraplegia over paraplegic. Such expressions are said to focus on the individual rather than on the particular functional limitation, and they are therefore considered by many to be more respectful. See Usage Note at handicapped.
---
disabled

Noun
(plural disableds)
One who is disabled (often used collectively as the disabled, but sometimes also singular).
Verb
simple past tense and past participle of disable
---
disabled - Computer Definition
(1) See assistive technology.
(2) Turned off. Not active. "Disabled" does not mean broken or in disrepair. It typically refers to software that has numerous options, or features, that are selectable by the user. If the option is disabled, which is often indicated by the lack of a check in a check box, that function is no longer active. With regard to hardware, the term may refer to a normal operation or one a bit more severe. For example, one might flip a switch or move a lever to disable a function, or pull the plug out of the wall socket, or in a more extreme case, open the device and pull out or cut wires. Contrast with "enabled," which means "turned on" and active.
---