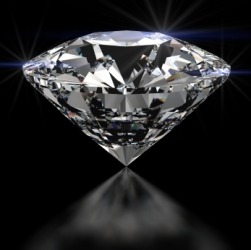 A beautiful diamond.
adjective
The definition of diamond is set with a diamond, or marking a 60th or 75th year.

An example of diamond used as an adjective is diamond earrings.
An example of something diamond is a couple's 60th wedding anniversary.
noun
A diamond is defined as a colorless, very hard, crystalline mineral made of pure carbon, or a figure with four equal sides with small angles on the top and bottom and wider angles on the sides.

An example of a diamond is a traditional stone in an engagement ring.
An example of a diamond is the baseball playing field, specifically where each of the four bases are placed.
An example of a diamond is the suit of playing cards with a red, squarish symbol.
verb
Diamond means to adorn with this mineral.

An example of diamond is to wear a lot of diamonds in rings, earrings and necklaces.
---
diamond
a usually colorless, crystalline mineral consisting of pure carbon, with nearly perfect cleavage and the greatest hardness of any substance: unflawed, transparent stones are cut into gems of great brilliance, and less perfect forms are used for cutting tools, abrasives, etc.
a gem or other piece cut from this mineral

a lozenge-shaped plane figure (?)
any of a suit of playing cards marked with such figures in red
[pl., with sing. or pl. v.] this suit of cards
any rhombus, including a square, oriented with one point at the top and one at the bottom: a baseball diamond

Baseball

the infield
the whole playing field
Origin of diamond
Middle English
diamaunt
from Old French
diamant
from Medieval Latin
diamas
(gen.
diamantis
), for Classical Latin
adamas
from Gr, adamant, diamond
of, like, or set with a diamond or diamonds
marking or celebrating the 60th, or sometimes 75th, year: a diamond jubilee
to adorn with or as with diamonds
diamond in the rough
a diamond in its natural state
a person or thing of fine quality but lacking polish
---
diamond
noun
An extremely hard, highly refractive crystalline form of carbon that is usually colorless and is used as a gemstone and in abrasives, cutting tools, and other applications.
A piece of jewelry containing such a gemstone.
A rhombus, particularly when oriented so that one diagonal extends from left to right and the other diagonal extends from top to bottom.
Games

a. A red, lozenge-shaped figure on certain playing cards.

b. A playing card with this figure.

c. diamonds used with a sing. or pl. verb The suit of cards represented by this figure.

Baseball

a. The infield.

b. The whole playing field.
adjective
Of or relating to a 60th or 75th anniversary.
transitive verb
di·a·mond·ed, di·a·mond·ing, di·a·monds
To adorn with diamonds.
Origin of diamond
Middle English
diamaunt
from
Old French
diamant
from
Medieval Latin
diamās
diamant-
alteration of
Latin
adamās
; see
adamant
.
---
diamond

Noun
(plural diamonds)
(uncountable) A glimmering glass-like mineral that is an allotrope of carbon in which each atom is surrounded by four others in the form of a tetrahedron.

The saw is coated with diamond.

A gemstone made from this mineral.

The dozen loose diamonds sparkled in the light.

A ring containing a diamond.

What a beautiful engagement diamond.

A very pale blue color/colour.

Something that resembles a diamond.
(geometry) A rhombus, especially when oriented so that its longer axis is vertical.
(geometry) The polyiamond made up of two triangles.
(baseball) The entire field of play used in the game.
(baseball) The infield of a baseball field.

The teams met on the diamond.

(card games) A card of the diamonds suit.

I have only one diamond in my hand.
Adjective
(not comparable)
made of, or containing diamond, a diamond or diamonds.

He gave her diamond earrings.

of, relating to, or being a sixtieth anniversary.

Today is their diamond wedding anniversary.

of, relating to, or being a seventy-fifth anniversary.

Today is their diamond wedding anniversary.
Verb
(third-person singular simple present diamonds, present participle diamonding, simple past and past participle diamonded)
to adorn with or as if with diamonds
Origin
From Old French diamant, from Late Latin diamas, from Latin adamas, from Ancient Greek ἀδάμας (adamas, "diamond").
Proper noun
A female given name of modern usage, from the name of the gem.
---