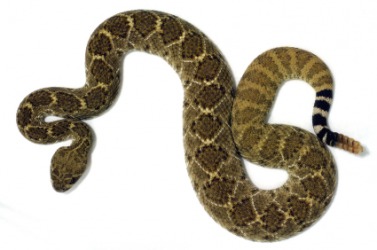 A diamondback rattlesnake.
Licensed from iStockPhoto
---
adjective
having diamond-shaped markings on the back
noun
☆ a large, poisonous rattlesnake (Crotalus adamanteus) with diamond-shaped markings on its back, native to the S U.S.
☆ an edible turtle (Malaclemys terrapin) with diamond-shaped markings on its shell, found in coastal salt marshes from Cape Cod to Mexico
a small, brown-and-white cosmopolitan moth (Plutella xylostella) whose wings, when folded, form a diamond
Webster's New World College Dictionary
Copyright © 2010 by Wiley Publishing, Inc., Cleveland, Ohio.
Used by arrangement with John Wiley & Sons, Inc.