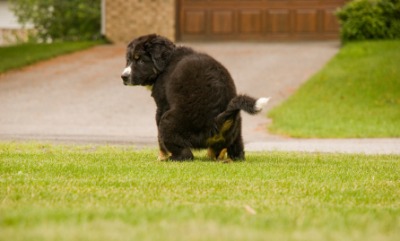 A dog defecates.
verb
To defecate is defined as to have a bowel movement.

When you expel feces, this is an example of a time when you defecate.
---
defecate
transitive verb
-·cat·ed

,

-·cat·ing
to remove impurities from; refine (sugar, wine, etc.)
Origin of defecate
from Classical Latin
defaecatus
, past participle of
defaecare
, to cleanse from dregs, strain from
de-
, from +
faex
(gen.
faecis
), grounds, dregs
to become free from impurities
to excrete waste matter from the bowels
---
defecate
verb
def·e·cat·ed, def·e·cat·ing, def·e·cates
verb
intransitive
To void feces from the bowels.
verb
transitive
To void (feces) from the bowels.
To remove impurities from (a liquid, such as fruit juice), especially in sugar refining.
Origin of defecate
Latin
dēfaecāre
to clean the dregs from
dē-
de-
faex
faec-
dregs
Related Forms:
---
defecate

Verb
(third-person singular simple present defecates, present participle defecating, simple past and past participle defecated)
(now rare) To purify, to clean of dregs etc.
(now rare) To purge; to pass (something) as excrement.
Usage notes
The sense 'to purify' is rare in contrast to the common mean to empty bowels.
Origin
From the participle stem of Latin dēfaecāre ("to purify"), from de- and faex ("dreg, impurity").
---